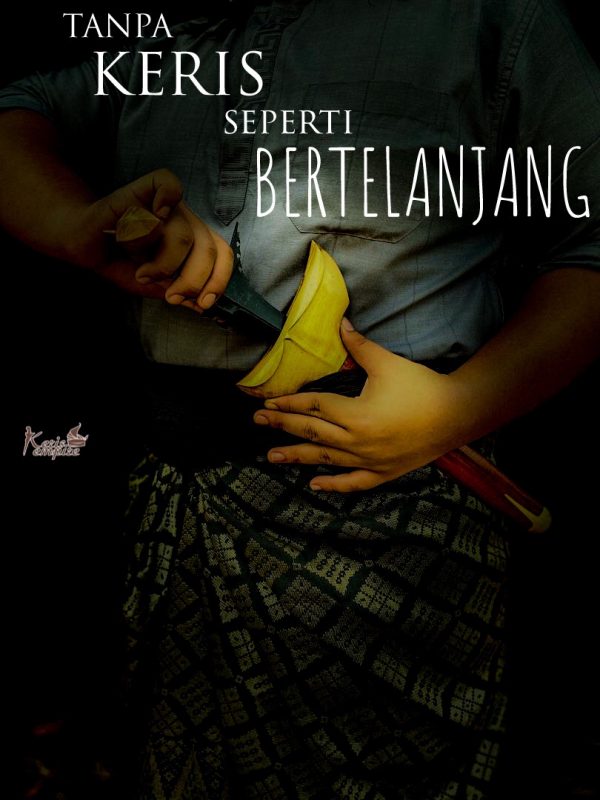 Mengenakan pakaian adat tanpa sebilah Keris adalah suatu yang aneh dan janggal bagi orang Melayu pada zaman dahulu.
Ianya seumpama seperti orang Eropah yang berbaju kot dan bertali leher tetapi tanpa berkasut.
Sultan Hussin dan Temenghong Sulaimam menjelaskan kepada Stamford Raffles bahawa, orang Melayu rasa terbogel jika tidak berkeris (1823).
Menurut Tomé Pires di dalam bukunya The Suma Oriental of Tome Pires (1512-1515) menjelaskan bahawa "setiap lelaki Melayu tidak kira kaya atau miskin, harus memiliki sebilah keris di rumahnya dan tiada seorang pun lelaki berusia 12 hingga 80 tahun keluar berjalan tanpa sebilah keris di pinggangnya. Keris diletakkan di pinggang/punggung seperti pisau belati di Portugal"
Sewaktu memakai pakaian adat, cara mengenakan keris berbeza di antara daerah dan suku bangsa Melayu.
Di daerah Semenanjung Malaysia, Brunei, Riau, Palembang, Minangkabau, Bangkinang, Bengkulu, Banjar, Bugis, Makassar dan lain-lain Keris kebiasaannya dipakai dengan cara menyelitkannya pada lipatan kain sarung di bahagian perut/pinggang si pemakai dengan kedudukan serong ke arah tangan kanan.
Di Pulau Jawa, keris dikenakan dengan cara menyelitkannya di pinggang di bahagian belakang badan. Kerisnya serong ke arah tangan kanan.
Di Pulau Bali, Keris dikenakan dengan cara menyelitkannya pada lipatan kain, di punggung, di posisi menegak atau serong ke kanan.
Wallahuaklam🙏🏻
Rujukan:
The Suma Oriental of Tome Pires: an account of the East, from the Red Sea to China, written in Malacca and India in 1512-1515 (Volume II: Malacca)
Penyambung Warisan Pandaibesi Melayu